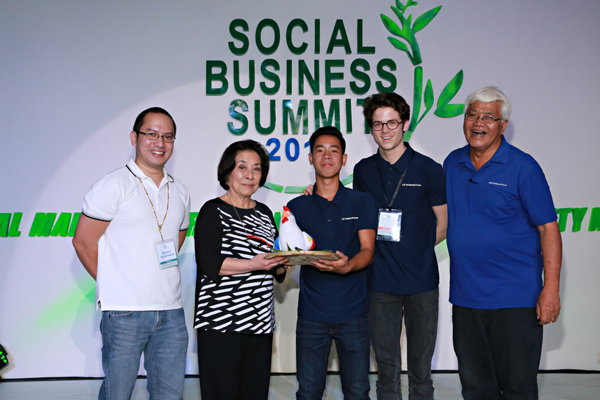 (Above, L-R) Marlyn Importante of Gawad Kalinga with Angela Mirasol, RCBC Bankard First Vice-President and Marketing Group Head; Myrla Onggue, RCBC Corporate Affairs Officer; Euclid Estacion, RCBC Bankard Program Manager; Liza Vengco, RCBC Vice-President for Corporate Affairs; and Suzanne Cruz, RCBC Savings Bank Corporate Communications Head at the commemorative placard of RCBC's 100 Chicken Donation to Gawad Kalinga, with Free Birds co-founders (Below, L-R) Vincent Tatel and Louis Faure.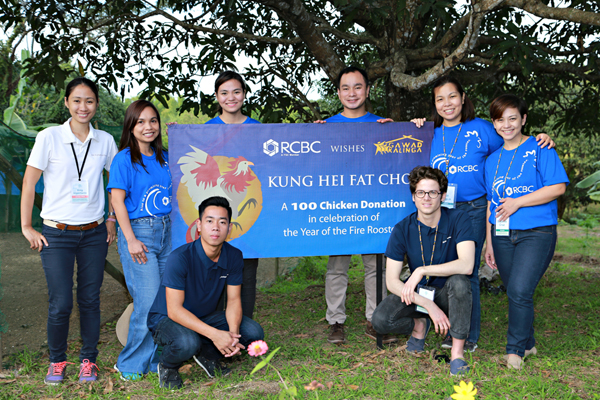 (L-R) Simon Calasanz, RCBC Bankard President and CEO; Helen Y. Dee, RCBC Chairperson; Vincent Tatel, co-founder of Free Birds; Louis Faure, co-founder of Free Birds; Antonio "Tito Tony" Meloto, Gawad Kalinga Founder at the turnover ceremony of RCBC's 100 Chicken Donation during the Gawad Kalinga 4th Global Social Business Summit
RCBC gifts Kabir Chickens to GK social venture
Rizal Commercial Banking Corporation (RCBC) is ringing in the Chinese New Year with a donation to the sustainable livelihood projects of the Gawad Kalinga (GK).
On the first day of Gawad Kalinga's 4th Global Social Business Summit, RCBC took center stage during the afternoon plenary session to present its donation of one hundred Kabir chickens to Vincent Tatel, Louis Faure, and Tony Meloto, GK Founder. Present for the turnover were RCBC Chairperson Helen Y. Dee, RCBC Bankard President & CEO Simon Calasanz, as well as other officers from the RCBC Group.
RCBC's donation will directly benefit Free Birds, a social entrepreneurship venture within GK co-founded by Vincent Tatel and Louis Faure. Together, the two seek to crossbreed native Filipino hens with strong French roosters to produce healthy, organic chickens that can one day be mass-distributed across the country.
RCBC's donation of one hundred chickens to this social venture will further Gawad Kalinga's goal to not only create sustainable livelihoods for the community within its GK Enchanted Farm, but to also support the local farmers and breeders in Bulacan by providing them with their own flock. It also aims to educate them on the benefits of organic farming.
GK commemorated the turnover with a special token for RCBC in the form of a personalized chicken stuffed toy manufactured by Plush and Play Inc., an in-house toy manufacturing company founded within GK's Enchanted Farm.