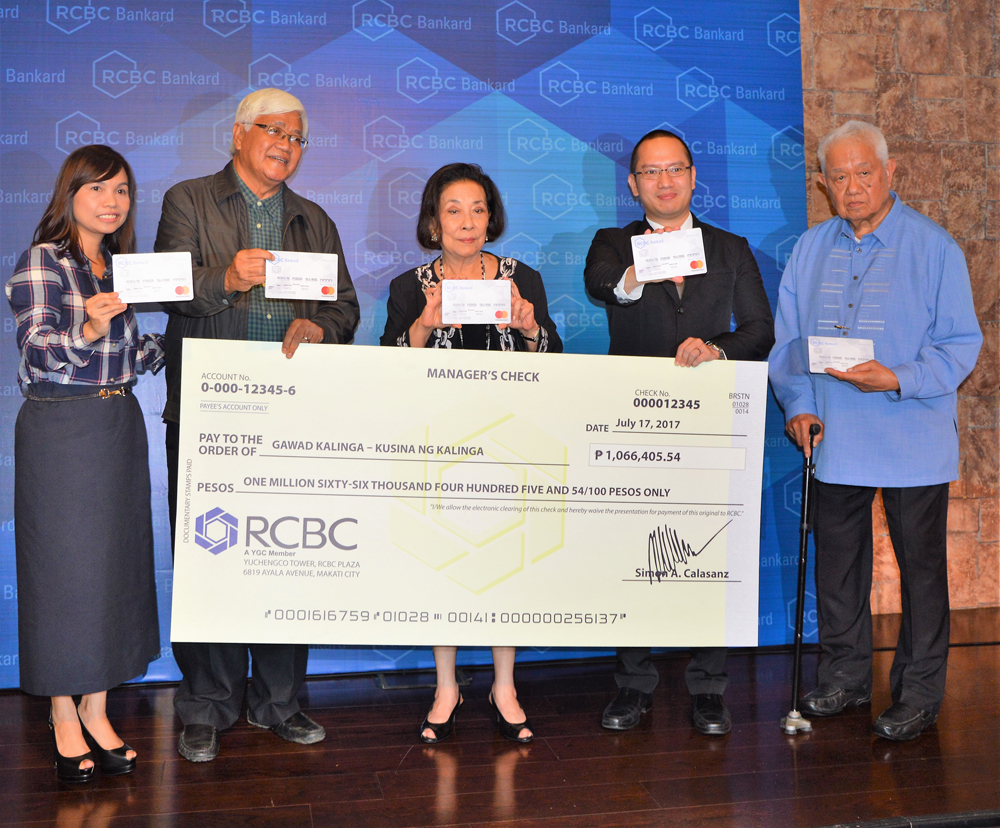 (L-R) RCBC Bankard First Vice-President and Marketing Group Head, Ma. Angela Mirasol; Gawad Kalinga founder, Antonio "Tony" Meloto; RCBC Chairperson Helen Y. Dee; RCBC Bankard President and CEO, Simon A. Calasanz; RCBC Corporate Vice-Chairperson, Cesar E.A. Virata at the donation of RCBC Bankard's latest contribution to Gawad Kalinga's Kusina ng Kalinga project
RCBC Bankard donates generous sum to Gawad Kalinga
RCBC Bankard, the credit card servicing entity of Rizal Commercial Banking Corporation (RCBC) announced its donation of Php 1,066,405.54 to Gawad Kalinga's Kusina ng Kalinga project.
The generous sum was generated by the special feature of RCBC Bankard's Diamond Mastercard that allows cardholders to automatically donate Php 0.20 for every Php 100 spent. The bank arrived at the amount only six months after the Platinum card was relaunched in November 2016.
The event was held at the Hexagon Lounge in RCBC Plaza, where officers of RCBC Bankard as well as representatives from Gawad Kalinga came together for the momentous occasion. In attendance was RCBC Bankard President and CEO, Simon A. Calasanz, RCBC Chairperson, Helen Y. Dee, RCBC Corporate Vice-Chairperson, Cesar E.A. Virata, and Gawad Kalinga Founder, Antonio "Tito Tony" Meloto.