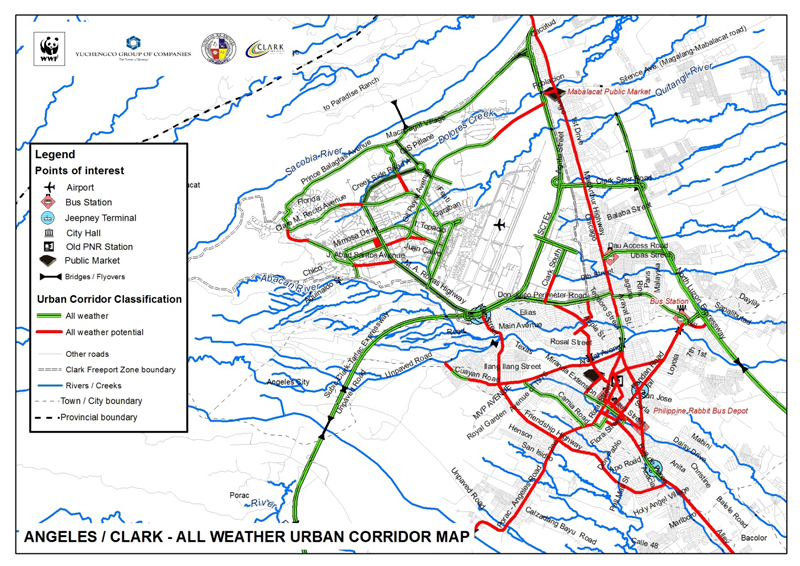 WWF-Philippines' All-Weather Urban Corridor (AWUC) Map for Angeles City and Clark.  This project is being supported by YGC (Yuchengco Group of Companies).
Delivering Better Business with WWF-Philippines' All-Weather Urban Corridors
Floods from heavy rainfall usually cause disruptions in the local transport system. Flash foods can bring about massive damage to bridges, making major roads impassable. This causes the delivery of products, goods, and services to be disrupted leading to negatively affected business transactions.
The World Wide Fund for Nature (WWF) Philippines through the support of YGC (Yuchengco Group of Companies) conducted a road assessment/mapping study to identify All-Weather Urban Corridors (AWUCs).  These are  "networks of roads that are able to hold out against the effects of extreme weather conditions and coupled with adequate drainage systems which allow the safe passage of vehicles with minimal disruptions to the flow of goods, services and people."
With the availability of this network of roads that can withstand the effect of extreme weather conditions, work processes and transactions of businesses will not be significantly disrupted. Delivery trucks and cargo vehicles that pass by major roads and bridges will still able to reach their destinations. This also entails that employees, too, are able to travel to and from their destinations.
This study on All Weather Urban Corridors also aims to pinpoint ways on how to improve drainage systems, how to deal with floods, as well as determining the various causes of flooding.  This includes studying the suitability of infrastructure materials and design, as well as enhancing existing roads to withstand both heavy rainfall and flash floods.
The identification of All-Weather Urban Corridors is beneficial not only to businesses that involve transport of goods, but also to real estate and property development companies banking on flood-free zones.
Indeed, through the support of YGC, WWF-Philippines' study on All-Weather Urban Corridors opens doors to better business.