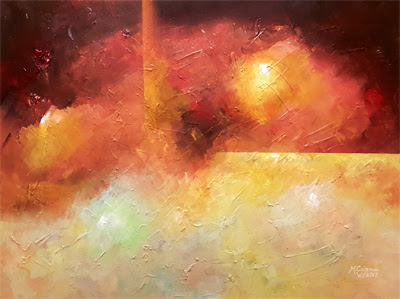 Art of Wisdom at Yuchengco Museum
Now open for viewing at the Dragon Gallery at RCBC Plaza is 'Mon Coloma's solo art exhibition, entitled Art of Wisdom. Experience the softness and serenity of his works—which range from portraits to abstraction to graceful dancers—each one shedding light in his search for wisdom. Relax and soothe your eyes with the paintings' radiance of colors and elegance in movement.
Art of Wisdom is presented with the support of Australian Ambassador to the Philippines H.E. Amanda Gorely, International Artists League, and Magnanimity, Inc. The exhibition is on view until July 28.
About the artist
Mon Coloma is a Filipino-Australian artist whose works have been exhibited in the Philippines, Singapore, and Australia. He is also a member of the Portrait Society of America and founder of the International Artists League, an informal group of artists devoted to creating art in all styles of painting and sculpture. In 2011, he received the Visual Arts Award presented by the Filipino-Australian Artistic and Cultural Endeavor Society. In 2013, he published his coffee-table art book entitled Portraits of Success.
---
About the Dragon Gallery
The Dragon Gallery at RCBC Plaza is an alternative exhibition space for art galleries, art associations, art schools, and artists. Located on the second floor of the YuchengcoMuseum, the gallery is open Monday to Saturday, from 10 a.m. to 6 p.m. For gallery rental information, email dragongallery@yuchengcomuseum.org.
Dragon Gallery
2/F Yuchengco Museum, RCBC Plaza, Makati City
(632) 889-1234 / (632) 887-5144 fax
dragongallery@yuchengcomuseum.org